Nu-Horizons Design Studio Art Award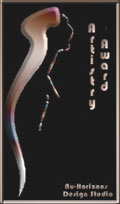 Nu-Horizons: We applaud your site's ease of navigation, obvious hard work, and entertaining content. It is with great pleasure that we give you the Art Award.
Boston Herald
"Let the Games begin on numerous Olympics sites"
By Stephanie Schorow, 2/5/2002
Excerpt: "It's a state blessed with incredible natural beauty; you may get a sense of this during the TV coverage of the Games. For views of the spectacular Wasatch Mountains, which border SLC, and the high deserts of southern Utah, access www.scenicutah.com and www.onlineutah.com."